Our theme for the last few weeks has been 'The Emerald Isle' and we have been focusing on topics pertaining to our history, our culture, our celebrations and festivals, the landscape and our language.
English
We have been looking at a very popular text type this half term in our English lessons. Narratives are a real favourite with myself and the children. We have been looking specifically and myths and legends from Ireland. We looked at the features and structure of an Irish myth, read some popular myths and legends and created our own mythical creatures. We are very much looking forward to writing our own stories next week!
Gaeilge
We looked at a few different topics this term including An Aimsir – An rinc scátála oighir (The ice-skating rink), Tom Crean, Caitheamh Aimsire – Páirc an Chócaigh (Croke Park) and Clann Lir (The Children of Lir). Our newly acquired vocabulary about Croke Park came in very handy when we went on our trip last week which the children really enjoyed. We looked at the signs and could name the different areas and equipment 'as Gaeilge'. We also learned some very interesting Irish history about 1916 and Bloody Sunday. We had a very busy time celebrating Lá Fhéile Pádraig and Seachtain na Gaeilge this term too which was a lot of fun. A personal highlight was the visit to the Lighthouse cinema to watch Wolfwalkers as Gaeilge.
Maths
We took on a very big topic this half term which we have really worked very hard at mastering. We are now experts at fractions, decimals and percentages! We worked on recognising equivalent fractions, converting and comparing fractions, decimals and percentages, calculating percentages in the context of shop sales and looked at percentage increases and decreases in a real-life contexts too.
SESE
During our Geography lessons, we spent some time looking at the names and locations of major natural features in Ireland like mountain ranges, rivers, lakes, bays, headlands, islands. We made interactive maps that we now use as references in our class library! We also looked at local placenames and their origins as part of our history lessons.  We looked at the built environment, some significant natural features of Irish towns built near rivers, harbours in bays, links between local streams and major rivers and the interrelationships between these natural features and the lives of plants, animals and humans. We also made lovely display maps with the names and location of a small number of major world natural and man-made features.
We really enjoyed looking at the major historical events in Irish history since the 16th century. We studied eras of change and conflict including The Great Famine and became aware of politics, conflict and society in Ireland at the time. We focused our learning on the 16th and 17th century such as the plantations, Daniel O'Connell and Catholic Emancipation in the 19th century and 1916 and the foundation of the state in the 20th century. We also looked at some traditional Irish myths and legends including Niamh and Óisín in Tír na nÓg and The Salmon of Knowledge. Here is a link that showcases some of our learning https://padlet.com/niamhmariebrennan/p4jwlum4qqugi274
We did some wonderful pieces of art this half term including our most recent Mother's Day cards which I hope you all enjoyed receiving. We also made our own mini books during World Book Day, created a seanfhocal poster during Seachtain na Gaeilge, drew some Celtic knot designs and created stained glass windows and lanterns to illustrate our knowledge about Easter and Lent, Ramadan and Eid.
We have had a jam-packed schedule of Science learning this term which has been mainly focused on human life and in particular, the human body. We started off by developing a simple understanding of the structure of some of the body's major internal and external organs, the reproductive systems of both males and females and of the physical changes taking place in both male and female during growth to adulthood. This also formed part of our RSE lessons in SPHE. We spent some time developing a simple understanding of food and nutrition, the importance of food for energy and growth, the importance of a balanced and healthy diet and designed a balanced and nutritious lunch menu for ourselves! We became aware of and investigated breathing and made some really cool breathing models that demonstrated this. We looked at the structure and function of the nose, windpipe and lungs, specifically looking at ways in which the body protects itself against disease and infection and did a lovely homework activity on recognising the dangers of smoking and made posters based on this. We also did some work on understanding the function and care of teeth!
PE
The focus this halfterm was on team games which worked out well considering many of the children are taking part in soccer, hurling and football for the school teams. In addition to these we also looked at volleyball, rounders and basketball. Now that the weather is improving, we are very excited to get back doing our daily mile!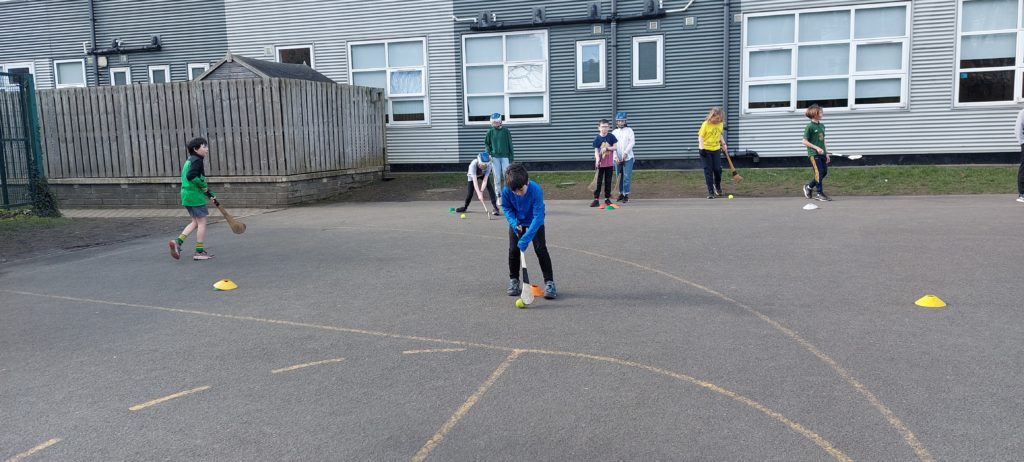 Learn Together / SPHE
During our Learn Together and SPHE lessons, we looked at themes such as puberty and adolescence and how our bodies are growing and changing as we get older. We also looked at different belief systems and focused on the celebrations around this time of year for different religious groups like Lent, Easter, Ramadan and Eid. Our theme for the month of March was respect which underpinned all our learning across the curriculum over the last few weeks. 
Music / Drama
During our music lessons, we learned another Aretha Franklin song called R.E.S.P.E.C.T, Taibhsí nó Laoch which we performed for Seachtain na Gaeilge, Amhrán na bhFiann and Niamh Cinn Óir. We also did some Tom Crean inspired drama and of course our Clann Lir class play which we will be performing next week.