Around the world, people are getting creative and recreating famous works of art using items from around their homes. The D7ET community is no exception, and has started to join in with the fun! Can you spot anyone you know in the pictures below?
.
Stanley Royle's The Goose Girl
.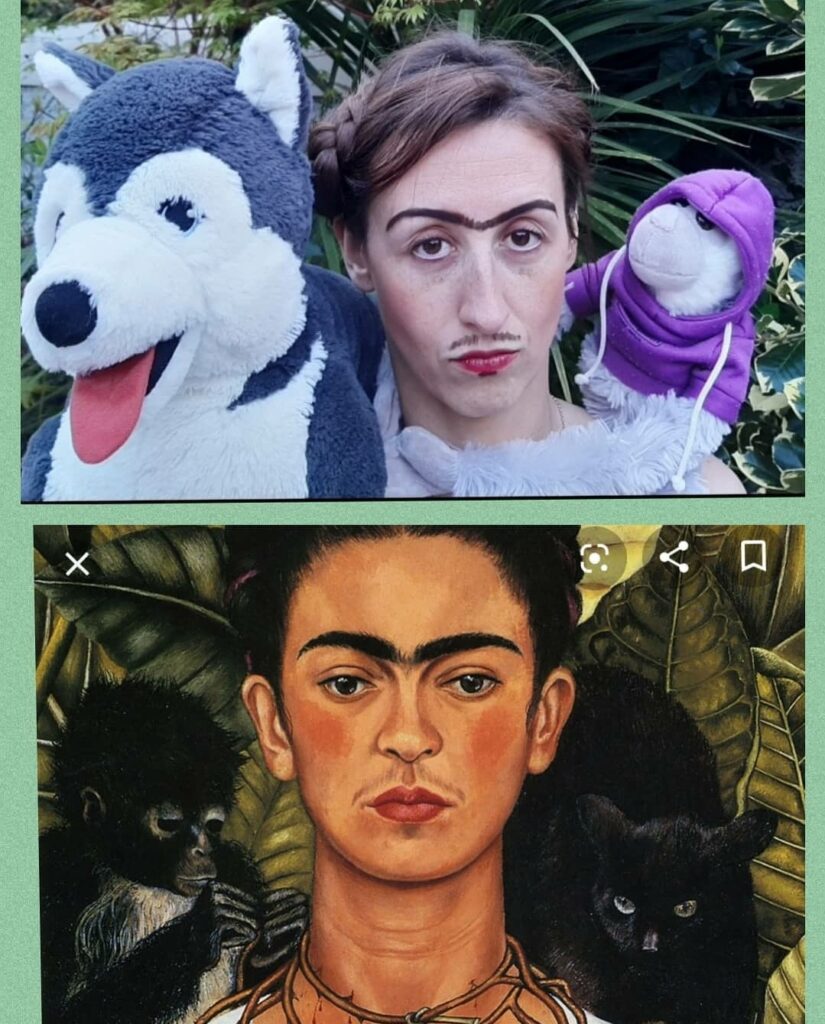 Frida Kahlo's Self-Portrait with Thorn Necklace and Hummingbird
.
Male Harp Player of the Early Spedos Type
.
Francis Barraud's His Master's Voice
.
Carrigaline Educate Together has had great success with this challenge too. Check out their recreations here.
Some of the above recreations are very true to the original artwork, while others have put their own unique spin on it. This week, we challenge our D7ET families to join in.
.
Are you up for the challenge?
Here's what to do:
(Guidelines adapted from the iris Behind the Scenes at the Getty)
.
1. Find Great Art You Like
The only tools you need for this activity are your imagination and a picture of a work of art you like or find interesting. You could take explore the art in the National Gallery or browse the collections in the Hugh Lane or IMMA. If you wanted to look further afield, you could browse the online Getty Museum collection and search the keyword field for ideas.
Many museums have great online collections with images available to download and use for free: try LACMA, The Met, Cleveland, Indianapolis, the Art Institute of Chicago and the Walters.
And of course, you could try a Google Image search for "painting [keyword]," "sculpture [keyword]," or whatever else you like. You might even try a reverse image search: upload an image of yourself or your object to Google Search and see what it thinks it looks like. (It's often way off, but let that be part of the fun.)
.
2. Pose Your Objects, Pets or People
Now that you've found your inspiration, pick the objects you'd like to use. Any objects are fine: from a blank piece of paper to your most elaborate hat.
Here are a few tips:
-Enlist a pet. Get your dogs, cats and bunnies into the mix.
-Make a face, strike a pose. If you're interested in re-creating a portrait or group scene, pay attention to the facial expressions—they really make it.
-For a family activity, look for a domestic or dinner scene.
-Pay attention to lighting. Try to imagine where the light in the artwork is coming from, and orient your composition so a window or lamp is casting similar light onto the scene. In bright daylight, windows offer a blue-tinged light, while most lamps cast a warmer glow.
-Think abstractly. If you're having trouble re-creating an artwork's appearance, try focusing on shapes over colours.
-Make it snackable. Edible art counts too! Why not make a sculpture out of a potato or a strawberry?
.
3. Photograph and Share
Take the photo and share it with our school community!
You could email it to Ciara alongside the original to post here on the blog, or share it with your teacher via Seesaw.
.
Good luck!